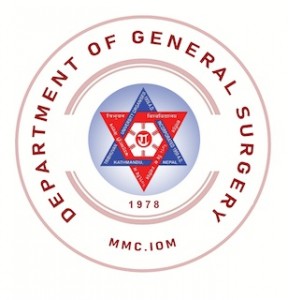 The Department of Surgery was established in 1978. Prof. Anjani Kumar Sharma was responsible for establishment of the department, and was the founder Head of the Department. Prof. Govinda Prasad Sharma followed him and was succeeded by Prof. Bhola Raj Joshi, Prof. Mahesh Khakural, Prof. Prakash Sayami, Prof. Pradeep Vaidya. Currently Prof. Yogendra Prasad Singh is the head of Department.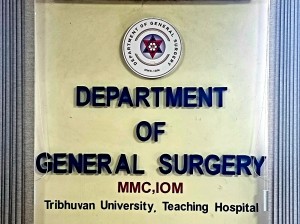 In 1992, Postgraduate Medical Education Co-ordination Committee (PGMECC) was formed in coordination with Bir Hospital. MS General Surgery was started as a postgraduate course with four students enrolled in the first batch. From 2004 IOM and NAMS (academic wing of Bir Hospital) are running their own PG program separately. Both programs accept foreign nationals also who are mainly from India, Maldives and Bangladesh.
In 2008, MCh program was started in Surgical Gastroentorology, Urology, Neurosurgery, Cardiothoracic and Vascular Surgery. However, MCh in Plastic Surgery was started in 2010.
The Department of Surgery is located on the first floor at Annex I of the new building of TU Teaching Hospital. Since 2010, Cardiothoracic and vascular surgery functions as a separate department in Manmohan Cardio-thoracic Vascular and Transplant Center. On 22nd June 2016, Department of General and GI surgery, Department of Urosurgery, Department of Neurosurgery, Department of Plastic surgery started functioning as separate departments.
As of 2022, the Department General surgery has two professors, three Associate Professors, three lecturers and two teaching assistants.